Pre-stressed Concrete Pole Production Line
Product Name:

Pre-stressed Concrete Pole Production Line

Model: electrical pole , electrical concrete pole
Contact Us

Product Details
Pre-stressed Concrete Pole Production Line

The Pre-Stressed Concrete Pole Production Line by Changzhou Success Building Material Machinery Co.,Ltd has a unique design structure, which can meet the production requirements of concrete poles of different building types, such as specific threaded piles, composite poles, etc. Its mechanical power part adopts oil-free lubrication technology, which has a longer service life and stronger anti-fouling performance, which can effectively reduce maintenance costs and improve service efficiency. The production line adopts a fully automatic control system, which can achieve constant concrete flow, constant thickness of the inner and outer layers of the pole, and the concrete concentration from the concrete pouring to the end of the pole, so as to realize the chemical change process of the concrete fluid at one time, eliminating the need for enamelled strands , Mortar powder installation and wearing parts installation and other cumbersome steps, the use is more convenient and efficient.
Our customers are from many countries such as Japan, Iran, Turkey, Afghanistan, Malaysia, Bangladesh and so on.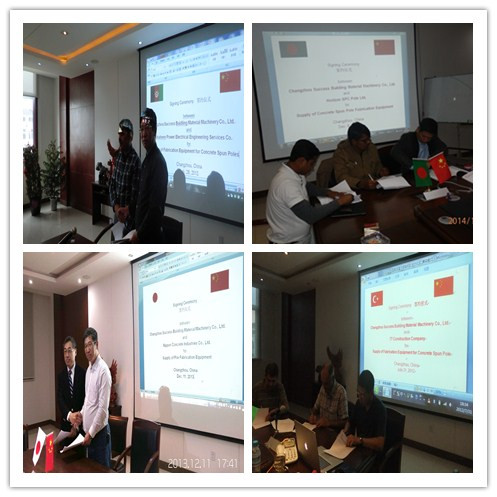 1.Concrete Batching (raw materials: Cement, sand, gravel, water, additive )
2.Steel Bar Straightening and Cutting (Steel Cutting Machine )
3.Steel Bar Heading (Heading Machine)
4.Placement of Reinforcement Cage into Mould
5.Mould Combination
6.Tensioning (Tensioning Machine)
7.Spinning (Spinning Machine)
8.Steam Curing
9.Demoulding
10.Finished Product Storage and Curing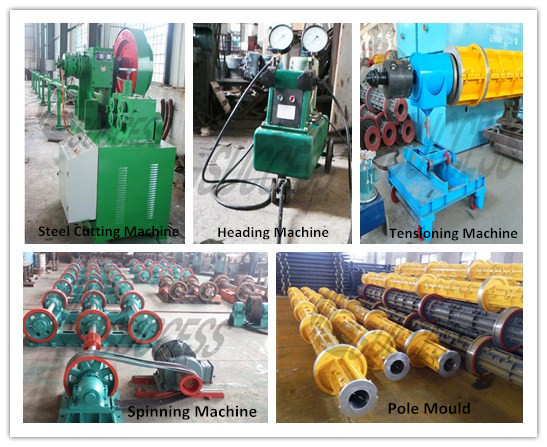 1. Economize steel in a large amount about 30%~70% (employing cold drawn steel wire can save 30%~60%; employing high stress steel wire can save 40%~69%).
2. Reduce the cost (using cold drawn steel wire can reduce 25%~40%; using high stress steel wire can reduce 12%~21%).
3. Crack resistance can increase about 3~5 times.
4. Rigidity increases 1~3 times.
5. Good durability can delay the existence and expansion of cracks.
6. Protect the environment on which human beings depend on for existence and reduce the deforestation compared with wooden poles.